Galaxy Of Geeks Podcast Episode 105 – Bad Batch EP 7 + Loki EP 2 Reactions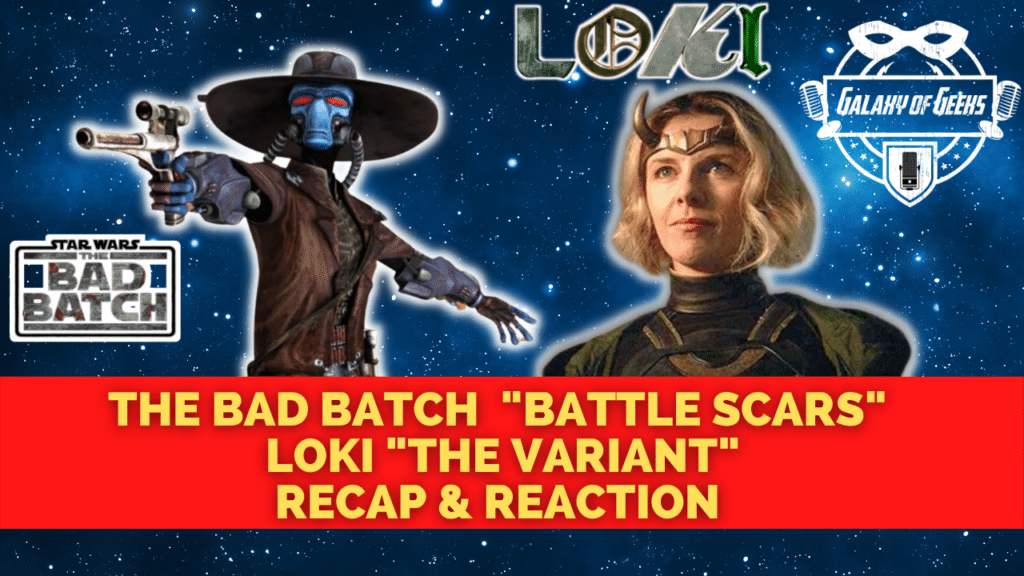 THE BAD BATCH | LOKI REACTIONS
During the latest episode of the Galaxy Of Geeks Podcast, Christian* and Victor discuss EP 7 of The Bad Batch, "Battle Scars," and EP 2 of Loki "The Variant". Did Wrecker finally crack? And is it Lady Loki or The Enchantress?
They also get into some of the "quick hits" happening in geekdom!
* Christian will be filling in for Chris for the next several weeks
During the quick hits segment, we discuss Kang showing up in Loki. Kevin Feige responding to a Wandavision Season 2. How Doctor Strange fits into the Wandavision storyline. A possible fight between Bucky and Sam in Captain America 4 and does that even make sense at this point? The Good Place's Jameela Jamil cast as She-Hulk's villain Titania. Will Matt Murdock show up in She-Hulk, Spider-man No Way Home, or both? Will She-Hulk be part of the Fantastic Four instead of The Thing? Are we building towards Secret Wars? If so, which one will they emulate the most? Venom being released three weeks after Shang-Chi. Hiroyuki Sanada joining John Wick 4. Lawrence Fishburne returning. John Cena says The Suicide Squad is neither a sequel nor a reboot. WB Reportedly thinks Pattinson is the best Batman since Keaton. Cobb Vanth (Timothy Olyphant) will show up in the Book Of Boba Fett. Ben Mendelsohn returning as Krennic in Andor.
This is the audio version of the June 17th, 2021 live stream.
Join us live and interact every Thursday at 6 PM EST / 3 PM PST / 11 PM UK / 12 Midnight CET